There are several important steps to adopt a new pet. These include preparing yourself for the experience, choosing a veterinarian, establishing a schedule, and avoiding too many changes in your pet's routine. You should also assign responsibilities to family members. Children should be involved in the pet-care process, so make sure to assign specific times for their care. This way, they won't miss out on the care that they're responsible for, and will teach them to be responsible.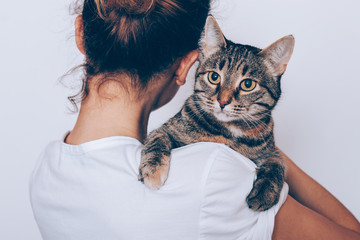 Preparing yourself
When you adopt a new pet, you'll have to prepare your house. If you live in an apartment building, make sure that you're in compliance with the association's rules regarding pets. Prepare your home and schedule. If you're planning on adopting a fish or goldfish, you will need to gather the animal's vaccination records and provide additional supplies. There are also a number of other things you should prepare for when you adopt a new pet.
Bringing home a new pet is an exciting event for both you and your new friend. While you'll need to make sure the pet is well-cared for, you should also be patient and show affection to the animal. Children can even be taught responsibility by setting a schedule for caregiving. The most important step in preparing yourself when you adopt a new pet is to understand the animal's behavior. A pet's behavior can change dramatically after you bring it home.

When adopting a pet, remember that you're making a commitment to caring for it for at least a year. While some pets get along well with their new owners, others struggle to adapt. The best way to minimize your risk of failure is to make sure that you're the right fit for the animal. You should also be patient and flexible. Remember that some animals need more physical activity than others, and you may not have enough time to exercise them.
Before you bring the new pet home, it's best to make sure that the area is both pet and child proof. You should also secure loose electrical cords and garbage can lids. You should also secure all household chemicals and food that can be eaten by pets. It's also a good idea to read up on dog and cat training to become familiar with what the animals need to be well behaved.
Choosing a vet
When you've just adopted a new pet, choosing a vet can be a daunting task. It's important to choose one who's well-known for caring for animals and having a compassionate attitude. Read online reviews to get a feel for how they handle their patients. Avoid vets who have a bad reputation – this doesn't bode well for you and your new pet. Visiting a veterinarian's office in person is a good idea too.
Choosing a veterinarian is just as important as picking a good doctor for yourself. There are some key factors to look for when selecting a veterinarian. Your family and friends are likely to have some recommendations, as will other pet owners in your neighborhood. Online reviews can also help you choose a veterinarian who shares your philosophy for caring for pets. Whether your pet is a dog or a cat, it's important to find a vet you feel comfortable with and one who provides good care.
Your veterinarian should be able to offer recommendations for a veterinarian that offers quality care for your new pet. Having a relationship with a veterinarian ensures a longer life for your new pet, from preventive care to treating illnesses and injuries. Your veterinarian can also give you guidance on comfort care and geriatric care. If you don't have a vet in your area, you can look for one through the state veterinary medical association.
While choosing a vet, ask around for recommendations from trusted friends and neighbors. Ask about the vet's background, his/her experience, and his/her views on medical treatments. It is also important to choose someone your pet feels comfortable with, since your veterinarian will be your pet's best friend. If the veterinarian doesn't feel comfortable with you or your pet, you may want to move on.
Creating a care-giving schedule
Creating a care-giving schedule when your family adopts a new pet is important. After all, the pet will need your time and attention, and if you miss your daily care duties, it may be unhappy. You can also teach your children about responsibility by making your care-giving schedule ahead of time. Listed below are some ways to create a care-giving schedule when you adopt a new pet.
Creating a care-giving schedule when a new pet is easier than you might think. For instance, if your family has multiple children, you can plan for long and short-term visits for the pet and leave the animal alone for a short period of time. Moreover, if the new owner has no children, you can delegate certain caregiving tasks to a friend. In the same way, you can invite friends and family to help you care for your new pet for a few days before your full-time adoption.